Tooth decay at the gum line is amongst the top chronic diseases for Canadians over 40. About one in three seniors have this problem, which often re-occurs. It's a disease which can be painful, expensive and affect your overall health. But now it can also be prevented!
A new and effective preventive treatment for adult root cavities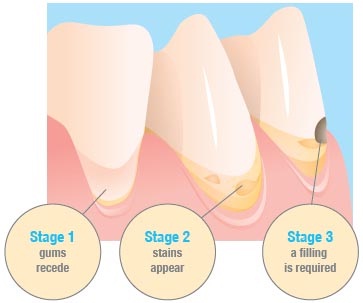 Adults often have more cavities than children and these can occur around existing fillings or crowns and can spread at the gum line. Tooth decay is a disease caused by a bacterial infection on the surface of the teeth and can be linked to your overall health, so it is important that this is prevented wherever possible.
Attention to your oral hygiene by regular brushing and flossing and controlling your intake of sugary foods can help to control the infection but some patients may need additional care from their dentist or hygienist. Extra help is often needed by patients who are at high risk with recurrent decay, gum recession, a dry mouth, or those who receive regular periodontal scaling.
Cavities in adults can be hard to restore, particularly those which appear around the gum line, and if you have one cavity it is likely that there will be more.
We are now able to offer our patients a new and affordable treatment which can help in the prevention of adult tooth decay. PREVORA™ is an invisible coating which is applied to the teeth in a series of short appointments after a risk assessment by your dentist. It kills the bacteria which live on the teeth and gives long term protection from the re-growth of these bacteria.
At your next appointment ask us to assess your risk of tooth decay and if you are one of the patients who would benefit from this treatment.
WHAT CAUSES CAVITIES AT THE GUM LINE?
These cavities result from an ongoing bacterial infection on the tooth surface. This infection gradually destroys the tooth surface so that it requires a filling. The infection quickly re-emerges after you brush your teeth and after a dental cleaning. Major risk factors for this disease are extensive gum recession, a dry mouth and ongoing periodontal scaling.
WHY SHOULD I CARE ABOUT PREVENTING THESE TYPES OF CAVITIES?
These cavities are hard to restore, their fillings typically fail after 2 to 3 years, and if you get one, you'll likely get more. Importantly, dental science also shows they are linked to your overall health.
In one large study, gum line decay was more predictive of heart disease than cholesterol.
ARE YOU AT RISK OF CAVITIES AT THE GUM LINE?
Your dental professional may already have spoken to you about your risks for cavities at the gum line.
If you answer "Yes" to any of the following questions, ask about more information on Prevora and your protection from the #1 dental problem for older Canadians.
I have already had cavities at the gum line? Yes No
My dental professional has told me I have substantial gum recession? Yes No
I receive frequent scaling for my periodontal disease? Yes No
I have a dry mouth? Yes No
My dental professional is always concerned about plaque build up? Yes No
HOW DOES PREVORA WORK?
Prevora is an invisible coating that kills Streptococcus mutans, the bacteria which lives on your teeth and causes tooth decay. Prevora keeps these bacteria from growing back on your teeth for long periods.
HOW IS PREVORA APPLIED?
Prevora is "painted" on your teeth quickly and painlessly by your dental professional. It takes just a few minutes. Patients at risk of (more) cavities at the gum line need 4 Prevora treatments in the first 8 weeks, then a single "booster" application at regular checkups until they are no longer at risk of these cavities.
HOW SAFE IS PREVORA?
Prevora is approved by Health Canada, based on evidence that it has been used safely by thousands of patients. The most common side effect is a temporary bitter taste or a momentary stinging of the gums, which occur about 4 times per 100 applications.
HOW EFFECTIVE IS PREVORA?
Prevora reduced cavities at the gum line by 41% versus placebo in high risk adults over one year. By contrast, fluoride reduces cavities in children by 26%.
WHAT ELSE SHOULD I KNOW ABOUT PREVORA?
Prevora will not discolour your teeth and does not upset your mouth's natural bacterial environment. It should be applied only to those patients who have had cavities at the gum line or are at-risk. In comparison to the costs of ongoing tooth decay, Prevora is an affordable route to better oral health.
Will Prevora stain my teeth?
No. The treatments leave your teeth in their natural colour.
How often do I need to be treated, if root decay is a chronic disease?
You need to get the infections causing root decay under control. To do so, you need 4 weekly treatments at the start of this prevention, then a single application every recall appointment until you no longer are at risk.
How long does a treatment take?
Approximately 20 minutes.
Will it hurt?
No, the treatments are painless.
Will my dental plan cover it?
We would be happy to submit a predetermination to your insurance company to determine whether you have coverage for this type of procedure.
More Information Visit: www.prevora.com