Non-Surgical Periodontal (Gum) Disease Treatment – ARESTIN®
PERIODONTAL (GUM) DISEASE IS A LEADING CAUSE OF TOOTH LOSS AND MAY BE ASSOCIATED WITH OTHER CHRONIC DISEASES, INCLUDING DIABETES AND HEART DISEASE

.
Gum disease is caused by bacteria below the gumline.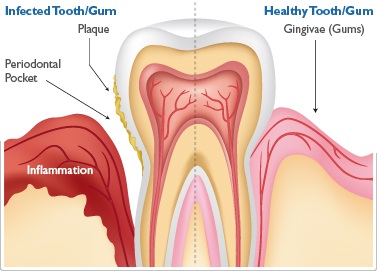 Periodontal (gum) disease treatment
We follow American Academy of Periodontology (gum specialty) treatment guidelines which stress that periodontal health should be achieved in the least invasive and most cost-effective manner. This is often accomplished through non-surgical periodontal treatment, including scaling and root planing (a careful cleaning of the root surfaces to remove plaque and calculus [tartar] from deep periodontal pockets and to smooth the tooth root to remove bacterial toxins), followed by adjunctive therapy such as local delivery antimicrobials and host modulation, as needed on a case-by-case basis.
Most periodontists would agree that after scaling and root planing, many patients do not require any further active treatment, including surgical therapy. However, the majority of patients will require ongoing maintenance therapy to sustain healt.
Periodontal (gum) disease treatment
Scaling and root planing (SRP) leaves some bacteria behind
ARESTIN® with SRP is nearly 3x more likely to result in successful treatment than SRP alone
SRP is an effective gum disease treatment. In this procedure, your dental professional will clean plaque and tartar from your teeth and roots. SRP can remove much of the plaque below your gumline. This is where bacteria produce toxins that irritate your gums and cause gum infections. But SRP alone isn't enough to get all the bacteria behind gum disease.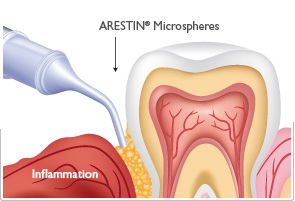 ARESTIN® is a locally administered antibiotic treatment for gum disease. It's a powder composed of 100,000 tiny microspheres that release antibiotics over time. In a single visit, your dental professional will add ARESTIN® to the pocket between your gum and tooth. It's a painless procedure, and ARESTIN®with SRP can make your gum disease treatment more effective by killing the bacteria left behind after SRP. Best of all, ARESTIN® keeps working long after you leave the dentist's chair.