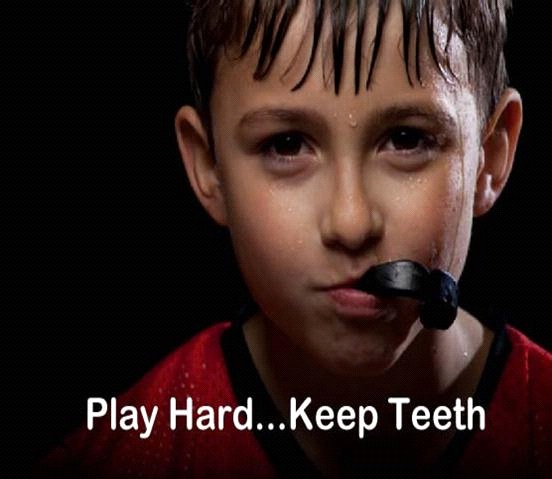 Mouth Guard
From the National Youth Sports Foundation for Safety-
- Dental injuries are the most common type of orofacial injury sustained during participation in sports; the majority of these dental injuries are preventable.
-An athlete is 60 times more likely to sustain damage to the teeth when not wearing a protective mouthguard.
-The cost of a fractured tooth is many times greater than the cost of a dentist diagnosed and designed professionally made mouthguard.
SmartGuards ® Mouthguards Offered at Atlantis Dental Centres
Smartguard Facts
Smartguards will create a custom mouthguard to your design wishes using the highest levels of dental fabrication methods being used today. Pressure Laminate guards are the highest level of dental fit mouthguards. These guards are layered under pressure to give you the best over all protection and fit. You will be able to talk, breathe and concentrate on your sport without having to worry about your guard falling out. This type of mouthguard is the type of guard that is worn by the pros. These guards are going to fit tighter and last longer than regular dental vacuum guards.
What You Should Know About Mouthguards
There are currently three types of mouthguards on the market today; Boil & Bite, Vacuum formed and Pressure Laminated (Smartguards).
Boil & Bite are relatively inexpensive and convenient to buy, but they don't provide adequate protection. It is almost impossible to achieve a good fit and they tend to wear out much quicker than those that are custom made.
Vacuum Formed custom mouthguards provide increased protection compared to Boil and Bite method. They allow the athlete to breath and speak easily but are less protective than Pressure Laminated.
SMARTGUARD PRESSURE LAMINATED: PRO CHOICE!
Smartguard mouthguards represent leading-edge technology in custom protection. Each Smartguard mouthguard is produced by pressure-forming multiple layers, each shaped separately over a customized mold of the athlete's teeth. With controlled thickness offering protection in areas where it's needed most, Smartguards also offer superb durability with a tight, comfortable fit. What's more, with our pressure-laminated process, you can personalize your Smartguard with colour combinations, your team logo, an athlete's name - whatever it takes to make it yours!