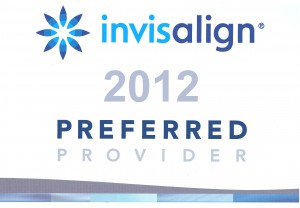 Thinking about braces? Think again. Invisalign Teen takes a modern approach to straightening teeth. With a series of clear aligners that gradually straighten your teeth, Invisalign Teen is comfortable, affordable and effective. And without brackets and wires, you'll have the confidence of a great smile even during treatment. Each aligner also comes with a small, inconspicuous Blue Dot Wear Indicator, which helps you know if you're ready for your next set of aligners.
With regular braces, you may experience some or all of the following: pain, discomfort, mouth sores or injuries caused by the brace wires, tooth decay (from inadequate brushing and flossing), plaque buildup, tooth discoloration, tooth/bracket breakage, or difficulty eating. As if that weren't enough, there are also the personal sacrifices — popcorn, chips, bagels, hard-crusted bread, pizza crust, pretzel, nuts, certain candies…plus apples, carrots, corn on the cob, and more.

Of course, there's always the option of not seeking treatment at all. Ultimately, the choice is yours, but do keep in mind that, if left untreated, many orthodontic issues can often lead to more serious dental and health issues.