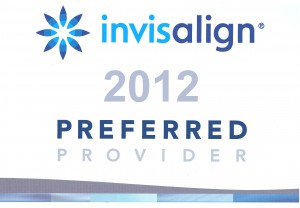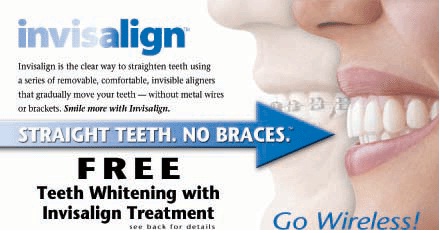 · What is invisalign and how does it work?
The virtually invisible aligners, which are made of a thermoplastic material uniquely developed for the Invisalign treatment plan, look similar to teeth-whitening trays. A series of Invisalign aligners are custom-made for you, to move your teeth in the sequence determined by your doctor.
. How do the aligners straighten teeth?
Over the course of treatment, you will be supplied with a series of aligners. Each aligner will make slight adjustments to tooth position, a process that is mapped out in advance by your doctor, specifically for your situation. When the aligners are placed on the teeth, they cause the teeth to gradually shift from their current position. After approximately two weeks, you will begin using the next set of aligners, which will continue the teeth straightening process.
. How will invisalign effectively move my teeth?
Through the use of our patented thermoplastic design, Invisalign aligners move your teeth through the appropriate placement of controlled force. The main difference is that Invisalign not only controls the force, but also the timing of the force application. During each stage, only certain teeth are allowed to move. These movements are determined by your doctor as he or she maps out your unique Invisalign treatment plan.
. What are the primary benefit of invisalign?
Invisalign aligners are virtually invisible. No one may even notice that you're wearing them, making Invisalign a seamless fit with your lifestyle. Invisalign aligners are removable. For the best results and a timely outcome, aligners should be worn for 20 to 22 hours per day. However, unlike with braces, you have the flexibility to remove your aligners to eat and drink what you want during treatment. And you can also remove the aligners to brush and floss as you normally would, for fresh breath and good oral hygiene. There are no metal brackets or wires that could cause irritation to your mouth, an advantage over traditional braces. Plus, since your office visits during treatment don't involve metal or wire adjustments, you'll likely spend less time in the doctor's chair. Invisalign allows you to view your virtual results and treatment plan before you start so you can see how your straight teeth will look when your treatment is complete. Instead of imagining how much better it can be, you'll be able to see it for yourself.
Treatment Process
You may somewhat familiar with how invisalign treatment works, but we'd like to take you through each treatment process. Form consultation to confident smile.
1- Your treatment begins after you select the experienced Invisalign Preferred Provider that you feel most comfortable with and schedule your initial consultation. Because you will be interacting with this doctor on a regular basis, you may even want to personally meet with a few providers in order to find one that is exactly right for you. This is an important medical and financial decision - that's why choosing the right doctor and the right treatment plan is so essential. Keep in mind that not all dentists and orthodontists work with Invisalign, so it's important to find a doctor who has received the proper Invisalign training and can truly evaluate your needs and determine how Invisalign can help you.
During the consultation, you and your doctor will discuss your case in detail to determine if you're a good candidate for Invisalign. Invisalign now addresses many cases, from simple to more complex. Your doctor will determine if Invisalign is right for you.
2- Your doctor will take x-rays, pictures and impressions of your teeth, which Invisalign will use to create a digital 3-D image of them. From these images your doctor will map out a precise treatment plan, including the exact movements of your teeth. Using this same technology, your doctor will even be able to show you a virtual representation of how your teeth will move with each stage of treatment.
3- Based on your individual treatment plan, a series of custom-made, clear aligners are then created specifically for you. These aligners are made of a smooth, comfortable BPA-free plastic that won't irritate your cheeks and gums like traditional metal braces often do. Simply wear them throughout the day, and remove them when you eat or to brush and floss your teeth. As you wear each set of aligners, your teeth gently and gradually begin to shift into place. And because they're virtually invisible, most people won't even notice you're wearing them.
4- Approximately every two weeks, you will begin wearing a new set of aligners, advancing you to the next stage of your treatment. To monitor your progress, you will also have occasional checkups with your doctor, usually only every six weeks or so. At every stage, you will be able to see how much closer you are to having the smile that reflects the real you.
5- While every case is unique to each patient, treatment typically takes approximately a year for adults. For teens, the length of treatment is comparable to that of braces, but since your teeth won't be covered by wires and brackets, you'll be able to see improvement much sooner. For best results and a timely outcome, you should wear your aligners for 20 to 22 hours per day, throughout your entire treatment.
Treatable cases
Many people believe that invisalign is only effective at treatment of minor orthodontic issues. But the fact is that invisalign 96% patient satisfaction rate is result of successfully treating broad range of cases, from overly crowded teeth and under bites to jaw problems to tooth misalignments.
If you take a look at our Actual Results section, you'll find relevant before-and-after pictures of some real Invisalign patients. You'll see for yourself the visible improvements - but the more important aspect is that correcting orthodontic issues can potentially have positive benefits for your overall health.
We're also continually making new advancements in our products and treatment process for even better clinical results. Most recently, the addition of Precision Cuts allows our aligners to now accommodate the use of elastics. As a result, more severe bite issues can be corrected effectively with Invisalign.
Here are some of the common conditions currently treated with Invisalign; if there is a specific issue that you do not see addressed here, please contact your Invisalign Provider for more information and to see if Invisalign is right for you.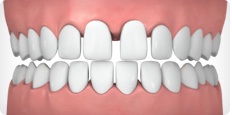 .This occurs with abnormal continued growth of the jaw bone. When teeth are missing, this can also be caused by the surrounding teeth shifting due to extra space. Spacing issues between teeth can lead to gum problems (due to lack of protection by the teeth), periodontal pockets and increased risk of periodontal disease.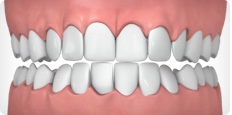 This occurs when there is simply a lack of room within your jaw for all of your teeth to fit normally. When left untreated, overly crowded teeth can get worse over time. This crowding can lead to plaque accumulation, tooth decay and an increased chance of gum disease.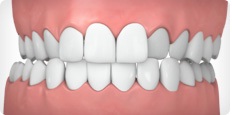 This occurs when the upper and lower jaws are both misaligned. It causes one or more upper teeth to bite on the inside of the lower teeth, and can happen on both the front and the sides of the mouth. This can lead to abnormal tooth wear and chipping, and periodontal problems including gum disease and bone loss.
This occurs when the lower teeth protrude past the front teeth. It's usually caused by undergrowth of the upper jaw, overgrowth of the lower jaw, or both. It can also be caused by missing upper teeth. This can prevent the normal function of front teeth or molars, which can lead to tooth wear. It can also cause painful jaw and joint problems.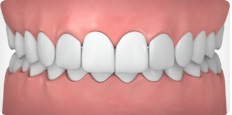 What people commonly refer to as an "overbite" is known to dental professionals as "overjet". It occurs when the upper teeth bite over the lower teeth. It's typically caused by genetics, bad oral habits, or overdevelopment of the bone that supports the teeth. This can lead to gum disease and chipped or fractured front teeth.
INVISALIGN SIMPLE TREATMENT GUIDLINE
One the best thing about invisalign is the minimal impact it has on your everyday life. Since the aligners are so comfortable, you should be able to wear them for recommended 20 to 22 hours a day without much effort. Here are some common steps provided by patients when going through treatment.
The aligners are easily removable, so you can continue to brush and floss your teeth as you normally would. Cleaning your aligners is just as easy with the Invisalign cleaning kit. Or you can simply brush and rinse them in lukewarm water. That's it! Achieving that great smile couldn't be easier!
"I'm usually pressed for time in the mornings, and I appreciate how Invisalign doesn't slow me down. I just pop out the aligners, brush my teeth and pop 'em back in."
Amy – Irvine, CA
You'll also remove the aligners each time you eat. This means you can continue to eat all the foods you love without any restrictions or worrying about food getting stuck in your wires and brackets. With other teeth-straightening methods, the simple act of eating can often be troublesome.
"I love how I can pretty much eat whatever I want and not have to worry about whether it's going to damage anything during my treatment."
Carl – Fort Worth, TX
For those who are active in contact sports, Invisalign allows you to continue wearing your aligners without having to worry about any sharp brackets cutting your mouth. If your sport requires wearing a protective mouth guard, simply remove your aligners and you're good to go!
"Soccer is my life, which means there's a lot of contact. Wearing braces would definitely make me a little hesitant to go all out"
Teri – Boston, MA
Your bedtime routine can continue as before, with the simple addition of cleaning your aligners. You won't be struggling with trying to floss and brush in between brackets and wires, which can be time-consuming.
"I don't think I'd have the patience to keep braces clean - especially having to floss between all those wires. With Invisalign, I just take out my aligners, brush and floss my teeth, quickly brush my aligners and I'm done."
Jeff – Bellevue, WA
Actual Results
A picture is worth a thousand words!
Patient's Chief Concern
This 27 year old female was unhappy that her upper and lower jaws seemed to be misaligned. This caused her upper teeth to bite on the inside of her lower teeth, and she could tell it was causing excessive wear. Her doctors told her this issue could also cause gum disease and bone loss. Her Invisalign treatment lasted approximately nine months.

Before After
Patient's Chief Concern
This 56 year old male was concerned that his teeth were abnormally spaced and very far apart. His doctor told him that while this might just seem unattractive, spacing issues in teeth can also cause some periodontal diseases. His Invisalign treatment lasted approximately 10 months.

Before After
This 26 year old female believed there wasn't enough room within her jaw for all of her teeth to fit normally. Her doctor told her that when left untreated, overly crowded teeth can cause dental decay, an increase in the chances of gum disease and can prevent the normal function of teeth. She was treated with Invisalign over the course of approximately 10 months.

Before After
Patient's Chief Concern
This 38 year old female was concerned that her upper teeth overlapped her lower teeth too much. Not only is this a cosmetic issue, it can lead to health problems later in life, so she was anxious to get it fixed. She was treated with Invisalign in approximately 20 months.